Clean Ingredients

We have chosen to exclude from our formulas a list of controversial substances mainly derived from petrochemicals that may present risks for consumers (endocrine disruptors, irritant, sensitizing or even carcinogenic potential, etc.)

Vegan

All our ranges are certified vegan by The Vegan Society which ensures the absence of products or ingredients of animal origin in the formulation, production or manufacture of our products.

Cruelty-free

In accordance with European regulations, none of our products - or ingredients present in our formulations - are tested on animals.

Made in France

Our treatments and varnishes are produced in France, favoring short circuits and local suppliers.
For shaping, we work with an ESAT (Establishment and Service for Help through Work) committed to a real CSR policy
Ingrédients
We strive for the cleanest formulas and seek every day to replace petrochemical-based or controversial chemicals with plant-based alternatives. All our products are vegan, cruelty free and up to 99% bio-sourced
Sugar cane

Derived from sugar cane, ethyl acetate guarantees the fluid texture of our varnishes

But

Derived from corn, acetyl tributyl citrate allows the varnish to form a smooth and shiny layer

Cassava

Derived from cassava, butyl acetate also makes it possible to obtain a fluid varnish texture that is easy to apply.

Potato

Derived from potatoes, sorbitol brings suppleness and homogeneity to our varnishes

Cotton

Nitrocellulose , obtained from cotton, ensures the resistance of our varnishes

Wheat

The isosorbide dicaprylate/caprate is extracted from wheat, guaranteeing the varnish a supple and homogeneous texture.
GreenFlash

1st first LED varnish that dries immediately, ultra long-lasting and with express removal , Green Flash is the perfect alternative to semi-permanent

Formulated without controversial molecules , endocrine disruptors or allergenic methyl acrylate monomers, it removes in 1 minute flat with a gentle solvent without damaging the nails

🥇 An innovation rewarded with the Marie Claire Beauty Award of Excellence

Green

The unique formula of our ultra-pigmented Green nail polishes is vegan, biosourced up to 84% and 9 free , excluding any controversial molecule derived from petrochemicals.

Used with our Top Coat Sunshine sensitive to UV from natural light, they dry faster than conventional varnishes, are more resistant and adorn themselves with an ultra-shiny gel effect for up to 5 to 7 days.

🏆 The Green range is also the winner of the Cosmopolitan Clean Beauty Award

Care

Our range of nail care concentrates all the essentials to hydrate, prepare, strengthen and repair the nail before applying varnish.

Our creams, balms and soaps are composed of ingredients of natural origin , enriched with plant active ingredients and certified organic by the Cosmos Organic label.

Vegan, cruelty free and formulated with up to 99% biosourced ingredients
Validated and certified
Manucurist has always placed health and the environment at the heart of its issues 🌎🌱
In constant search for new ways of innovating to improve the quality of our products, we call on numerous certification bodies which attest to the quality of our commitments:
Cosmos Organic Certified

Dedicated to organic and natural cosmetics, the Cosmos Organic label imposes drastic standards in terms of eco-responsibility and recycling of containers, and guarantees the absence of GMOs and ingredients derived from petrochemicals.

To be labeled, the product must contain at least 95% minimum ingredients of natural origin and at least 20% ingredients from organic farming.

Certified Vegan Society

All our products are certified Vegan, by the Vegan Society

This label guarantees the absence of ingredients of animal origin in our formulations, as well as in our packaging.

Cosmopolitan Clean Beauty Award

Among more than 600 brands, our Green range has been selected by a panel of expert chemists, dermatologists and beauticians for the quality of its formulation, on the choice of ingredients but also on manufacturing, production, materials and format criteria. environmentally friendly packaging

Marie Claire Beauty Excellence Award

Praised by a jury of 23 beauty experts, the Green Flash range was selected from 11 products for its innovative and sustainable character.
Eco-friendly packaging
Reducing the impact of waste is also a major challenge at Manucurist. We have always been mobilizing to offer partially recycled, recyclable and sustainable packaging solutions:
✨ A responsible choice of materials

All the materials we choose can be recycled to give your products a second life

Most of our products are delivered without secondary packaging , which reduces unnecessary waste!

☁️ Certified organic cotton - GOTS

All our bags, pouches and accessories are made with organic cotton certified by the Global Organic Textile Standard (GOTS) label , which guarantees good working conditions, cultivation methods without pesticides, not depleting the soil and not disturbing ecosystems

🌳 FSC certified Kraft

All our packaging is made of Kraft, certified by the Forest Stewardship Council , an international NGO whose mission is to promote ecological, social and economic management of forests.

♻️ Recycled Aluminum containers

We have chosen to pack our creams, soaps, glitter and effect powders in recycled aluminum containers which can then be recycled endlessly ...

Which makes it much more planet-friendly than a plastic bottle!
As for the glasses and caps of our varnishes, solvents and care products, they can be deposited entirely without prior rinsing in the white sorting bins intended for glass.

Their recycling is carried out automatically by the sorting operators
Biodégradable
With its glitter, Manucurist is proud to offer nail art options that are tested and certified to be biodegradable and comply with the environmental safety criteria defined by the biodegradable WATER standard.
Better with glitter ✨
Healthy Hands for a Healthy Planet
Manucurist is proud to contribute to building a greener cosmetics industry by offering sustainable and sustainable alternatives for the planet.
Check out some of our favorite products here: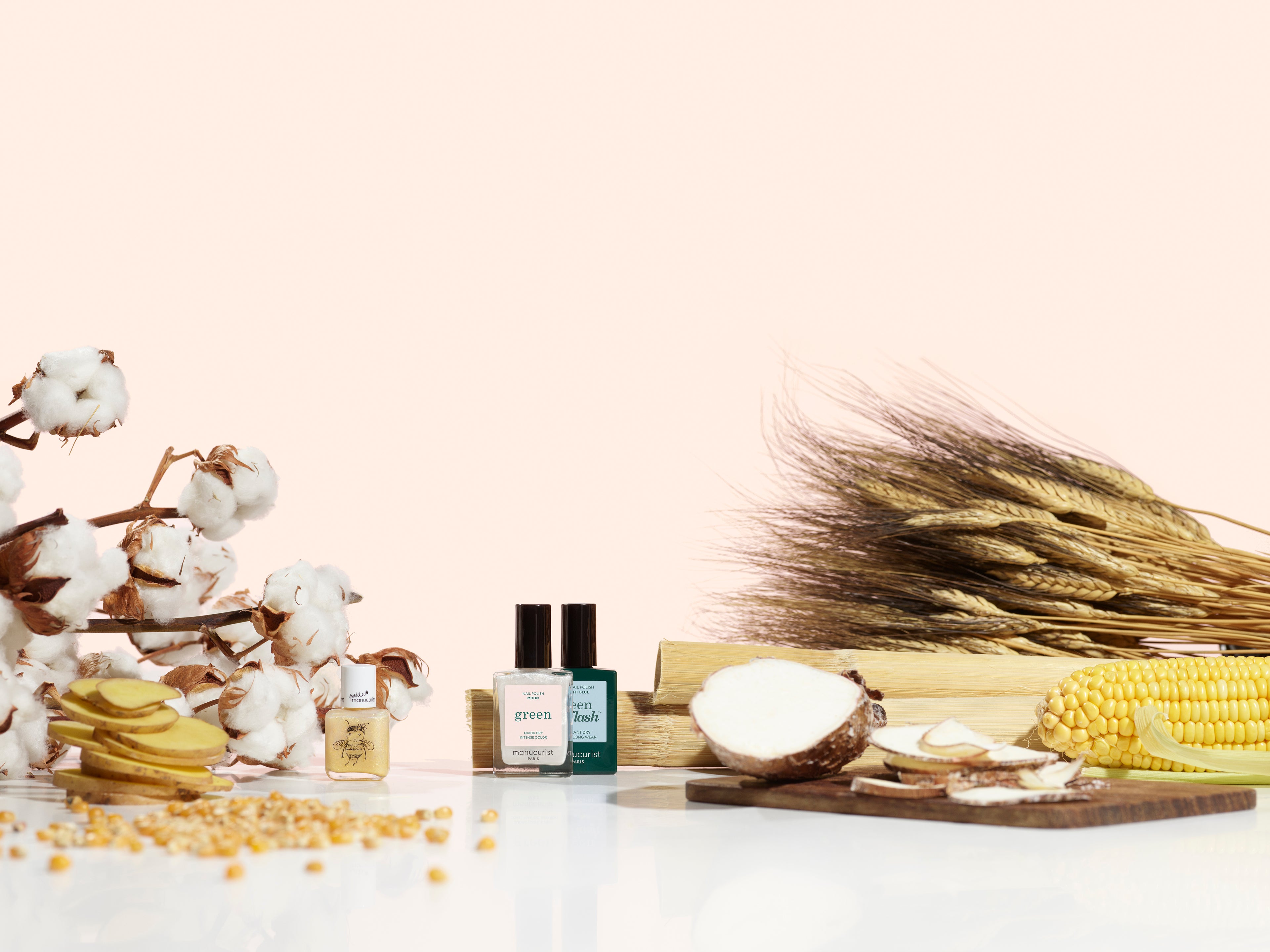 Log
Want to know more ?
Visit our blog to find out more about our ecological initiatives, our commitments and how Manucurist is paving the way for a more transparent, responsible and sustainable cosmetics world.
Green Flash™
the perfect alternative!
Led Nail Polish

Green Flash

Can be removed at home, without acetone and without rubbing

Dries immediately under an LED lamp

Ingredients: bio-sourced & vegan

Regular Gel polish

Other brands

Removed in a salon with acetone, using a nail drill

Dries immediately under a UV lamp

Ingredients: potentially harmful and non-vegan

Nail polish

Green

Can be removed at home, without acetone, by rubbing

Air dries in a few minutes

Ingredients: bio-sourced & vegan
Choosing a selection results in a full page refresh.
Using a plain white background will give the most realistic colours.
Try out our sheer colours on bare nails ✨